Recipe of the Day Categories:
Recipe Home
Recipe Index
Recipe Search
Fruit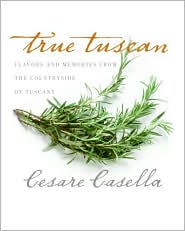 True Tuscan:
Flavors and
Memories from
the Countryside
of Tuscany

Academia Barilla 100% Italian Unfiltered Extra-Virgin Olive Oil

Your patronage of our affiliate partners supports this web site.
We thank you! In other words, please shop at LBC Gift Galerie!

Bicycle Parked Outside Historic Food Store, Siena, Tuscany, Italy
John Elk III
Buy This Allposters.com


Pesto Risotto with Mushrooms and Shrimp
(Risotto con Pesto, Funghi, e Gamberi)

Diary of a Tuscan Chef:
Recipes and Memories of
Good Times and Great Food
by Cesare Casella and Eileen Daspin, 1998, Doubleday

(serves 4 as an appetizer)
3 tablespoons chopped red onion
1/2 cup extra-virgin olive oil
1 1/4 cups Arborio rice
3/4 cup white wine
4 cups simmering homemade
fish or vegetable stock
3 cloves garlic, peeled and crushed
1 cup cleaned, mixed mushrooms
(chanterelles, shiitake, cremini)
1 dozen medium raw shrimp,
shelled and cleaned
Salt to taste
Fresh-ground black pepper, to taste
1/2 cup Pesto alla Cesare, more
to taste (recipe follows)
1 tablespoon chopped fresh basil
In a medium saucepan, sauté the onion in /14 cup of the olive oil over high
heat until it begins to soften, about 5 minutes. Add the rice, stir to coat. Cook
2 minutes more, until the rice is lightly toasted. Remove from the heat and
add 1/4 cup of the white wine, then return the rice to the heat and let the
wine reduce, about 1 minute. Add the simmering stock and continue cooking
at a lively boil over high heat.
In a small sauté pan, heat 2 tablespoons of the remaining oil with 1 clove of
the crushed garlic. Discard the garlic after 1 minute. Add the shrimp, salt,
pepper, and the remaining 1/2 cup of wine (be careful, it will flame up).
Cook for 2 minutes, then add to the rice mixture.
It will take about 15 minutes from the time the liquid is added for the rice
to cook al dente. Taste it. If after 15 minutes it is still too hard, add a little
more broth or water and continue cooking. The risotto should be slightly
soupy and the rice firm to the bite. Add salt and pepper to taste. When it
has reached this stage, remove the rice from the heat, add the pesto and
chopped basil, stir well, and serve. (If you pour a thin layer of olive oil
over the unused pesto, it will keep very well in the refrigerator for a week.
You can use the leftover pesto to make pasta, drizzled over toasted
Tuscan bread. or as an addition to a vinaigrette to give your salad a
light basil taste.
Pesto alla Cesare
(serves 6)
2 cups fresh basil leaves
1/2 cup fresh Italian parsley
1/4 cup fresh chervil (or use all parsley)
1 – 1 1/2 cups extra-virgin olive oil
5 tablespoons pine nuts
4 – 5 cloves garlic, peeled
Salt and fresh-ground black pepper, to taste
5 anchovies, preserved in salt or
olive oil (optional)
3 tablespoons freshly grated
Parmigiano-Reggiano cheese
3 tablespoons freshly grated
pecorino Romano cheese
Put the basil, parsley, chervil (if you don't use chervil, us more parsley),
olive oil, pine nuts, garlic cloves, salt and pepper, and the anchovies in a
food processor. Blend coarsely, stopping from time to time to scrape down
the sides. When the ingredients are well blended, pour them into a bowl
and add the grated cheeses. (If combining the pesto with pasta, add a
tablespoon of the cooking water to the pesto to thin it out. This is
unnecessary with risotto.)
Featured Archive Recipes:
Risotto 101 (Lidia Bastianich)
Risotto Porcini Casserole
Risotto Primavera
Index - Side Dish Recipe Archives
Daily Recipe Index
Recipe Archives Index
Recipe Search