Recipe of the Day Categories:
Recipe Home
Recipe Search
Fruit

Creole Dancer, c.1947
Art Print
Matisse, Henri
Buy at AllPosters.com


Atchafalaya Swamp,
'Cajun Country', Louisiana, USA
Sylvain ...
Buy This Allposters.com


Love New Orleans?
This book's for you!

Your patronage of our affiliate partners supports this web site.
We thank you! In other words, please shop at LBC Gift Galerie!

Spanish Moss Drapes Old Cypress Trees on Lake Verret, Louisiana
Photographic Print
Buy at AllPosters.com


Creole-Cajun Jambalaya
(Visit Tom for New Orleans food insights.)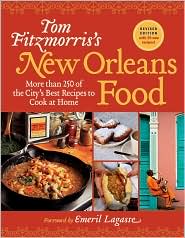 Tom Fitzmorris's
New Orleans Food:
More Than 250 of the
City's Best Recipes
to Cook at Home

Copyright 2010 by Tom Fitzmorris
Harry N. Abrams
"As with many Louisiana dishes, jambalaya has a distinctive Creole and Cajun versions. Creole jambalaya is reddish, a color it gets from tomatoes. Cajun
jambalaya never includes tomatoes and is brown.) Creole jambalaya almost
always contains shrimp. Cajun jambalaya always has smoked sausage or
tasso. Instead of stepping into the endless 'which jambalaya is better debate',
I present here my favorite version. It has elements of both styles, with oysters
providing a unique flavor. I don't include tomatoes - but if you add a 16-
ounce can of crushed tomatoes with the vegetables, that would be perfectly
okay and quite authentic."
1/4 cup vegetable oil
4 pounds chicken-leg quarters,
each cut into 4 pieces, bone in
2 pounds andouille or other smoked sausage,
cut into 1/4-inch-thick slices
2 large yellow onions, coarsely chopped
2 green bell peppers, coarsely chopped
2 ribs celery, coarsely chopped
2 cloves garlic, chopped
2 cups oyster liquor or chicken stock
2 tablespoons Worcestershire sauce
1 tablespoon Tabasco
1 tablespoon salt-free Creole seasoning
1 tablespoon salt
1 bay leaf
1 teaspoon dried thyme
1/2 teaspoon dried marjoram
4 cups (uncooked) Uncle Ben's rice
(or similar par-boiled rice)
2 green onions, chopped
3 sprigs flat-leaf parsley, chopped
4 dozen large fresh, shucked oysters
1. Heat the oil in a heavy kettle or Dutch oven. Add the chicken and
sausage and brown the chicken all over. Add the onions, bell pep-
pers, celery, and garlic, and sauté until they wilt. Add the oyster
liquor or stock and 5 cups of water. Bring to a simmer, stirring to
dissolve the browned bits in the pot.
2. Add the Worcestershire sauce, Tabasco, Creole seasoning, salt,
bay leaf, thyme, and marjoram. Bring to a boil, reduce the heat,
and simmer for 30 minutes. Remove the chicken and set aside.
Stir the rice into the pot. Cover and simmer for 10 minutes.
3. Meanwhile, remove the chicken meat from the bones and set aside.
When the rice is cooked, stir in the chicken meat, green onions,
parsley, and oysters. Continue to cook, uncovered, gently stir-
ring occasionally, until the rice just starts to dry out. Adjust the
seasonings as needed.
Serves twelve to eighteen

And now for Tom's Creole-Cajun Jambalaya philosophy...
"The most fruitless discussion regarding our local cooking concerns the
differences between Creole and Cajun food.
They're really just regional variations of the same thing, using the same
ingredients. They're no more different than the food of any two towns
in Italy or France separated by the distance between New Orleans and
Lafayette. Two dishes, however, emphasize the differences. One is gumbo.
The other is jambalaya.
We get one good chance a year to make a direct comparison: at the Jazz
Festival, they always have two jambalaya vendors. One does the brown
Cajun-style jambalaya, the other the red Creole style. My preference is
for brown jambalaya, but both have plenty of partisans, and I wouldn't
try to talk anyone into or out of the kind he likes.
The word 'jambalaya' is half French and half African. It's a contraction
of the phrase 'jambon a la yaya'. 'Jambon' is French for ham, and 'yaya'
is an African word for rice.
Or maybe not. All of this may be wrong; there's as much argument about
the origins of jambalaya as there is about the difference between Creole
and Cajun. But I find this story persuasive.
Like many another Creole dish, the main input came from the African side
of its parentage, by way of the Caribbean. It's often been pointed out that
jambalaya is a Creole version of paella, but I think the relationship may be
more coincidental than actual. There are rice-and-stuff dishes wherever
rice is eaten.
In fact, jambalaya is more like Chinese fried rice than any other rice dish.
The essential cooking step is identical to stir-frying. A good jambalaya re-
quires browning the meats and savory vegetables to the point that they stick
to the pot and leave behind the color and flavor essence that give the rice
the distinctive jambalaya flavor.
One of the strange facts about jambalaya is that it is not much available in restaurants. Many Orleanians do their entire annual consumption of the dish
at the Jazz Festival. Funny, for one of the essential dishes of our cuisine!
I think the reasons for jambalaya's relative scarcity is that it's a real bother
to make well at home, and that restaurants can't get away with charging
much for it.
It can be done in a first-class way. That's how they do it at the Pelican Club,
which to my tastes makes the best jambalaya around. All the elements are
brought up to five-star standards: the shrimp are huge instead of those teeny
ones you usually get. The chicken is in white-meat chunks, the sausage is top
quality, and even the rice is a cut above.
But locals can't see ordering jambalaya in a place like that, and certainly not
at that price--no matter how much work went into it or how delicious it is.
(Some day I need to write a piece about culinary prejudices that prevent people
from eating better than they could.)
When restaurants do serve jambalaya, it's often as a side dish. That's a problem,
too. Jambalaya made to fill out a plate will not be much of a jambalaya. The
dish is a meal in itself, and should be treated that way."
Copyright 2002 Tom Fitzmorris. All rights reserved.

Featured Archive Recipes:
Commander's Seafood Jambalaya
Emeril's Crawfish and Sausage Jambalaya
Michele's New Orleans Shrimp Jambalaya


Index - Main Dish Recipe Archives
Visit Cajun Country!
Do you know what it means
to miss New Orleans?
Daily Recipe Index
Recipe Archives Index
Recipe Search