Your patronage of our affiliate partners supports this web site.
We thank you! In other words, please shop at LBC Gift Galerie!

Loaf of Bread in...
Per Karlsson
Buy This at Allposters.com


French Toast Bread Pudding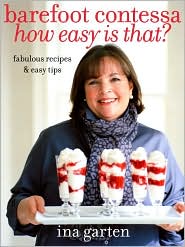 Barefoot Contessa
How Easy Is That?:
Fabulous Recipes and
Easy Tips

Copyright © 2010 Ina Garten
Clarkson Potter/Publishers
Serves 8
"Each recipe in this book is designed to save you time and reduce stress
when you cook. This is a good example. I was making Challah French
Toast one morning from my 'Barefoot Contessa Family Style' cookbook
when I realized that the ingredients were exactly like bread pudding –
so I threw them all together in one dish and baked it. French Toast
Bread Pudding for breakfast – all the flavor of French toast and none
of the stress. How easy is that?"
1 challah loaf, sliced 3/4 inch thick (see note)
[can substitute French or Italian bread.]
8 extra-large eggs
5 cups half-and-half or milk
3 tablespoons honey
1 tablespoon grated orange zest
1 teaspoon pure vanilla extract
1/4 teaspoon kosher salt
Confectioners' sugar and pure maple
syrup, for serving [and butter!]
Preheat the oven to 350 degrees [F].
Arrange the bread in two layers in a 9 x 13 x 2-inch baking dish, cutting
the bread to fit the dish. Set aside.
In a large bowl, which together the eggs, half-and-half, honey, orange
zest, vanilla. And salt. Pour the mixture over the bread and press the
bread down. Allow to soak for 10 minutes.
Place the baking dish in a larger roasting pan and add enough very hot
tap water to the roasting pan to come an inch up the side of the baking
dish. Cover the roasting pan tightly with aluminum foil, tenting it so the
foil doesn't touch the pudding. Make two slashes in the foil to allow
steam to escape. Bake for 45 minutes, remove the aluminum foil, and
bake for another 40 to 45 minutes, until the pudding puffs up and the
custard is set. Remove from the oven and cool slightly.
With a small sieve, dust lightly with confectioners' sugar and serve hot
in squares with maple syrup [and butter!] on the side.
Note: If the challah is fresh, not stale, slice and bake for
10 minutes at 350 degrees [F].

More from Barefoot Contessa:
Barefoot Contessa:
How easy is that?
Banana Crunch Muffins
Coffee and Granola
Featured Archive Recipes:
Baked Blueberry-Pecan French Toast
with Blueberry Syrup
Baked Caramel French Toast
Baked French Toast Casserole with
Maple Syrup (Paula Deen)
Overnight Eggnog French Toast
Pain Perdu with Orange Sauce
Praline Apple French Toast
Stuffed Pain Perdu
Stuffed French Toast



Index - Breakfast Recipe Archives
Yummy Muffin Recipes
Daily Recipe Index
Recipe Archives Index
Recipe Search