St. Louis Cathedral in French Quarter at Jackson Square,
New Orleans, Louisiana, USA
Photographic Print
Jones, Adam
Buy at AllPosters.com

La Belle Cuisine - More Seafood Recipes
Fine Cuisine with Art Infusion
"To cook is to create. And to create well...
is an act of integrity, and faith."
Shrimp Rémoulade with Two Sauces
"The most fruitless discussion regarding our local cooking
concerns the differences between Creole and Cajun food."
~ Tom Fitzmorris
---
Recipe of the Day Categories:
Recipe Home
Recipe Search
Fruit

Have a heart for
the Gulf Coast

Jazz I
Art Print
Elena
Buy at AllPosters.com


Jazz in the Big Easy
Giclee Print
Millsap, Diane
Buy at AllPosters.com

Your patronage of our affiliate partners supports this web site.
We thank you! In other words, please shop at LBC Gift Galerie!

French Quarter
Art Print
Dynner, Lidia
Buy at AllPosters.com


Shrimp Rémoulade with Two Sauces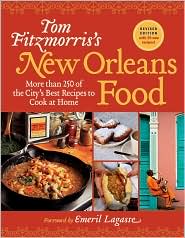 Tom Fitzmorris's New Orleans
Food: More Than 250 of the
City's Best Recipes to Cook
at Home

Copyright 2010 by Tom Fitzmorris
Harry N. Abrams
"There are two kinds of rémoulade sauce served around New Orleans, and
everybody has a favorite. My preference is the orange-red kind that's utterly
unique to our area. The white rémoulade sauce, made with mayonnaise, is
actually closer to the classic French recipe. It's so good that in recent years
I've taken to making both sauces and letting people take their pick. What
the sauces have in common is the main active ingredient: Creole mustard -
a rough, brown, country-style mustard mixed with a bit of horseradish.
The shrimp for shrimp rémoulade should be medium size, about 25-30
count to the pound. If you're making only the red style of rémoulade, a
good trick is to underboil the shrimp slightly, then marinate them in the
rather acidic sauce. The shrimp will finish cooking in the sauce in much
the same way they do in a ceviche marinade.
The word 'rémoulade,' by the way, is an old French dialect word that
refers to a kind of radish that hasn't been part of the recipe for centuries."
Shrimp:
Leafy tops of a bunch of celery
5 bay leaves
3 whole cloves
2 cloves garlic, peeled and crushed
1 large lemon, sliced
1/2 cup salt
3 pounds medium shrimp (25-30 count)
Red Rémoulade Sauce:
1/2 cup chili sauce (bottled) or ketchup,
plus more to taste
1/2 cup Creole mustard, plus more to taste
1 tablespoon paprika
1/2 teaspoon salt
2 tablespoons lemon juice
1/4 teaspoon Tabasco
1/2 teaspoon minced garlic
1 cup olive oil
3 green onions, green part only,
finely chopped
White Rémoulade Sauce:
1 cup mayonnaise
1/2 cup Creole mustard
2 tablespoons lemon juice
1/2 teaspoon Tabasco Garlic Pepper Sauce
1 teaspoon Worcestershire sauce
1/2 teaspoon salt
3 green onions, green part only,
finely chopped

1. Bring a gallon of water to a boil in a large pot and add all the ingre-
dients except the shrimp. Boil the water for fifteen minutes, then
add the shrimp. Remove the pot from the heat immediately, and
allow the shrimp to steep for 4 minutes, or until the shell separates
easily from the meat.
2. Drain the shrimp in a colander and set aside until cool enough to
handle. Peel and devein the shrimp.
3. To make red rémoulade sauce: Combine all the ingredients except
the olive oil and green onions in a bowl. Add the oil a little at a time,
stirring constantly, until all oil is absorbed. Taste the sauce and add
more chili sauce or Creole mustard if needed. Stir in green onions.
4. To make the white rémoulade sauce: Combine all the ingredients
in a bowl and stir to blend.
5. Place the shrimp on a leaf of lettuce, sliced avocados, sliced tomatoes,
or Belgian endive leaves. Drizzle half the shrimp with one sauce, half
with the other. The sauces can also be served in pools for dipping.
Makes eight appetizer portions or six entree salads.

Featured Archive Recipes:
Begue's Avocado, Shrimp and
Crabmeat Rémoulade
Pickled Shrimp (Commander's Palace)
Seafood-Stuffed Avocado Salad with
Creamy Artichoke Dressing
Shrimp Maque Choux Salad



Index - Seafood Recipe Archives
Index - Salad Recipe Archives
Do you know what it means
to miss New Orleans?
Daily Recipe Index
Recipe Archives Index
Recipe Search