A Gull Perches Atop the Bow of a Brightly Painted Fishing Boat
Photographic Print
Buy at AllPosters.com

La Belle Cuisine - More Seafood Recipes
Fine Cuisine with Art Infusion
"To cook is to create. And to create well...
is an act of integrity, and faith."
New Orleans Oysters Polo

Sur La Table - Free Shipping on Select Items
"If you don't love life you can't enjoy an oyster; there is a shock of freshness
to it and intimations of the ages of man, some piercing intuition of the sea
and all its weeds and breezes. [They] shiver you for a split second."
~ Eleanor Clark
---
Recipe of the Day Categories:
Recipe Home
Recipe Search
Fruit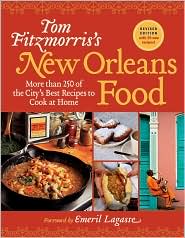 Tom Fitzmorris's
New Orleans Food:
More Than 250 of the
City's Best Recipes
to Cook at Home

Your patronage of our affiliate partners supports this web site.
We thank you! In other words, please shop at LBC Gift Galerie!

Oyster Gatherers of Cancale, 1878
Art Print
Sargent, John...
Buy at AllPosters.com


Oysters Polo
Tom Fitzmorris
"The Windsor Court Grill Room [New Orleans] invented this very
unusual baked oyster dish some years ago. It's disappeared from the
menu there, but it's still a great dish. The sauce is rich with cheese,
sharp with horseradish, and crusty with bread crumbs."
1 cup unsalted butter, melted
1 cup fresh bread crumbs
3/4 cup grated Parmesan cheese
1 tablespoon herbes de Provence
White pepper
Salt
24 fresh oysters, unshucked
1 small onion, peeled
1 bay leaf
1 whole clove
2 cups milk
Few drops Tabasco (optional)
6 tablespoons unsalted butter
6 tablespoons all-purpose flour
4 tablespoons prepared horseradish, drained
Pinch grated nutmeg
2 1/2 pounds rock salt
6 sprigs fresh rosemary
1. In a bowl, combine melted butter, bread crumbs, 1/2 cup of the
Parmesan cheese, herbes de Provence, and a pinch of salt
and pepper.
2. Shuck the oysters, reserving their juice. Scrub and dry bottom shells.
3. Place the onion, bay leaf, clove, and milk in a small heavy saucepan
over medium heat. When the mixture comes to a boil, remove the
pan from the heat. Reserve and keep warm.
4. Melt the 6 tablespoons butter in a medium sauté pan over low heat.
When the butter is foamy, add the flour and briskly mix together to
form a smooth paste. Continue to stir over low heat for one minute.
Remove from the heat and strain the milk mixture into the paste,
stirring constantly. Return the pan to low heat and fold in the re-
maining 1/4 cup of Parmesan cheese, the horseradish and nutmeg.
Season with salt, pepper, and Tabasco sauce. Cook for an addi-
tional minute, then turn off the heat.
5. Fill a large, deep saucepan with water and bring to a boil. Fill a second saucepan or large bowl with cold water and ice cubes. In the boiling
water, poach the oysters for about one minute, or just until the edges
curl. Remove with a slotted spoon and plunge immediately into the
ice water. Drain dry on paper towels.
6. Preheat the oven to 375 degrees. Place a layer of rock salt about
1/2 inch deep in metal baking pans. Press the shells onto the salt.
Spoon a tablespoon of sauce into each shell, then top with an oyster.
Cover with another tablespoon of sauce, and, finally, a spoonful of
buttered herb breadcrumbs. Place in the preheated oven and bake
for ten minutes, or until a golden crust forms.
7. Warm six salad plates and place four oysters on each. Garnish with
a sprig of fresh rosemary. Serve immediately.
Serves six

Featured Archive Recipes:
Baked Herbed Oysters Haussner's
New Orleans Deviled Oysters
New Orleans Oyster Shooters
Southern Oyster Casserole

Index - Seafood Recipe Archives
Do you know what it means
to miss New Orleans?
Thanksgiving Recipe Index
Holiday Central
Daily Recipe Index
Recipe Archives Index
Recipe Search